"American Horror Story" Season 7: Theme, Release Date, Cast And Everything You Need To Know
21 June 2017, 11:19
Who will be in it? When will it air? WHAT IS IT ABOUT?!
Calling all Teen Wolf fans... one of your beloved Beacon Hills boys is officially joining the American Horror Story season 7 cast. Yep, Colton Haynes was announced as the latest new addition to the squad by Ryan Murphy on Instagram on June 20. There's no other details about his role in the show but this headshot does look very similar to the image Murphy shared of that creepy elephant monster wearing lipstick...
As for the rest of the seventh instalment, here's everything we already know about the upcoming season which, unlike the complete and utter hell-scape that was promotion for season six, it looks like it won't be as shrouded in as much secrecy as we previously imagined. Strap in kids, it sounds like it's going to be a wild one.
Who will be in it?
FX / via giphy.com
The only two staple cast members that have been announced so far, to no one's surprise, are Sarah Paulson and Evan Peters. Murphy has already stated that they will be the two leads of the show, which means we'll be getting WAY more Evan screen time than we did in Roanoke. Adina Porter and Cheyenne Jackson are back for more as well.
In other casting news, Billy Eichner (from Billy On The Street/Parks & Rec fame) will be joining the cast in an unspecified recurring role as well as your favourite cast member of Scream Queens - Billie Lourd. Billie has reportedly signed on for a ~leading~ role alongside Evan and Sarah but all other details are being kept under wraps. And course, Colton Haynes.
Some eagle-eyed sleuths have noticed that the IMDb page for American Horror Story Season 7: Episode 1 had been updated with a cast list AND the names of the characters that they are playing. The names have now been removed (Sarah Paulson's character name is currently still up there) but not before we managed to snag a screenshot before it all got deleted.
IMDb
It's not the first time leaked cast lists have made the rounds before an announcement; remember last year when someone "leaked" the Roanoke cast list and it included Lana Del Rey? What a tease. It was fake of course. And this one? This is totally fake too.
First of all, it's highly doubtful that Lady Gaga will be joining the cast this year 'cause she's prepping for Coachella and a world tour. And as for Evan Peters playing Michael Langdon aka Vivien Harmon's devil child from Murder House? We can believe that but Murphy has already stated that a character from S1 will be appearing in the Murder House/Coven crossover, which is NOT this season.
And as for the rest of them? Yeah, you can probably bet your ass that they'll be returning in some capacity.
What is the theme?
FX / via giphy.com
Ryan Murphy revealed on Bravo's Watch What Happens Live that the theme for the seventh season of American Horror Story will be... Election 2016. Honestly, truly, the scariest theme of all. Speaking to E! News, Murphy said the election will be used as a springboard for the season's eventual theme.
"It is about the election we just went through and what happened on that night and the fallout of that night, which to many people, from all sides of the camps is a horror story. And you know, that show is always so fun when it's about the zeitgeist and what we're doing now."
Murphy also stated that Hillary and Trump will not feature as characters in the season but when asked if it would feature a Trump-like character, he said, "Maybe..." FFS.
Ryan Murphy Reveals the Theme for Season 7 of American Horror Story pic.twitter.com/ZsGW0PmOql

— AmericanHorrorStory (@fyeahahs) February 16, 2017
Back in October 2016, Murphy also revealed that the focus of S7 would be on the wider context surrounding Freak Show saying "Next year, we will be going back to some Freak Show characters, deeper histories and mythologies. So we're sort of still exploring season 4 in season 7."
It makes sense too seeing as Sarah and Evan's characters were two of the only characters left alive in S4 but whether that will now be part of this election season remains to be seen.
When will it air?
FX / via giphy.com
The seventh season will be airing earlier than usual. Instead of the signature October start date, it's being pushed up to September so that the finale wraps up around Halloween. "It's going to debut right after labor day" says Murphy. FYI: Labor Day 2017 is on Monday September 4 so it could be coming as soon as Wednesday September 6.
What happened to the crossover season?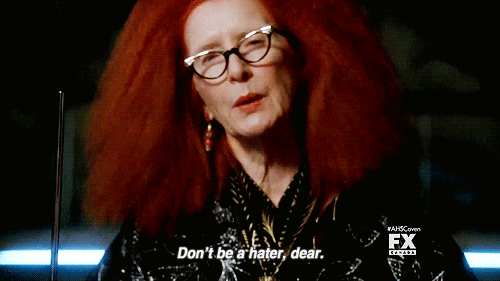 FX / via giphy.com
Sorry fam, you're going to have to wait a while for the Murder House/Coven crossover season. It looks like that edition of AHS won't be hitting our screens until 2018 at the earliest. Which is great actually, because hopefully by then Jessica Lange will be looking for some work by then. Here's hoping! *cheers emoji*
____ ____ ____ ____ ____
Listen to the #PopBuzzPodcast with Camila Cabello right here or subscribe for free on iTunes to get new episodes sent straight to your phone every Friday.