Evan Peters *Might* Have Dyed His Hair Blue And Everyone Is Freaking Out
18 May 2017, 16:17
AHS: Red, white and BLUE HAIRED EVAN PETERS!?
Ladies and Gentlemen, I have gathered you all here today to talk about our Lord and Saviour Evan Peters and his hair. As you know, American Horror Story season seven is just around the corner and Ryan Murphy has just set up an Instagram account to tease us about it. Yesterday (May 17) he uploaded a brand new sneak peak and it might have something to do with Evan's precious locks.
Evan Peters has had literally every hair colour under the sun over the past six seasons of American Horror Story. He has been a blonde (twice).
FX
He has been a brunette (twice).
FX
He's been a very very dark brown, some may even say ~black~.
FX
And of course, he's been a glorious redhead. (Such a versatile actor.)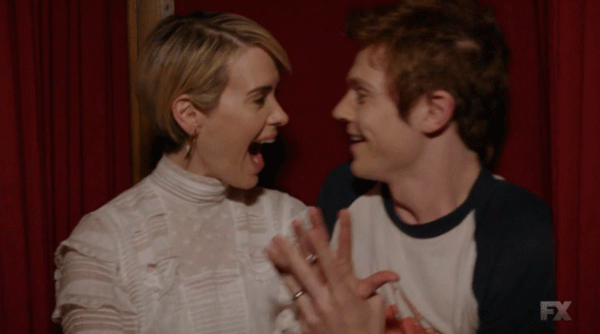 FX
So when Ryan Murphy shared THIS photo of someone's blue hair and captioned it "AHS: Red, white and blue clue", it sent everyone into a state of Evan Peters-themed panic.
IS THAT EVAN?!
Instagram
After a quick sleuth around the internets, we discovered that Evan is currently rocking some long hair at the mo, a length that looks suspiciously similar to the length of the hair in THAT picture. It's not blue but...
Evan Peters ? pic.twitter.com/ELC79nx0KC

— AHS News France (@AHSNewsFrance) May 18, 2017
The conspiracy theories have begun. Stay vigilant everyone - remember that Evan unveiled his ginger hair before Roanoke even aired so we've still got time.
But then again, Murphy could be scamming us all. Could it be a wig? Is this even Evan? Did he purposefully craft this visual to make us all think that Evan Peters was about to go full Halsey on us for the "election" season? Ugh.
FX
____ ____ ____ ____ ____
Listen to the #PopBuzzPodcast with Hey Violet right here or subscribe for free on iTunes to get new episodes sent straight to your phone every Friday.